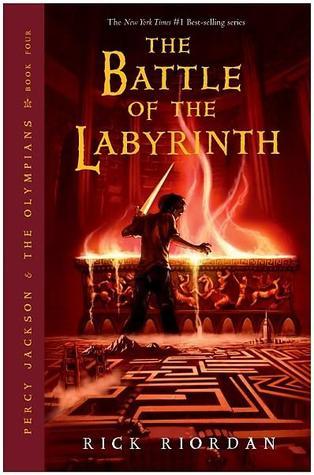 Book Title: The Battle of the Labyrinth (Book#4) | Series Title: Percy Jackson and the Olympians | Author: Rick Riordan| EDITION: Disney Hyperion, Paperback | Status: Owned | Reading Time: April 18 – May 13, 2015
Its just a dismay i was lazy reading this beautiful book… But i still made it with amazement. And just I thought, Percy's world on fourth book is amazing as ever. The quest is exciting and worth living-by-reading. The adventure is really great… and I can't say exact words describing it.
#1: THE QUEST. The quest itself is reassuring that the whole book will be a blast. And I was right!
#2: THAT RANCH. That horrible ranch… and Percy's cleaning task is a mess. But he made it in a witty way. He's Poseidon's son afterall… great!
#3: ENEMIES AND ALLIED. Those we were expecting to be the enemy, all of sudden were allied. And those who were supposed to be allied were enemies. Well, always happens.
#4: DAEDALUS. You are the center of attraction man… and what you've done in this book is amazing yet a lil disappointing. But you're great. You are the maker of the Labyrinth after all…
#5: CALYPSO. Percy's biggest 'what-if'. Well he's been through a lot. And maybe he cant be an immortal after all… (trying not to spoil)
#6: PERCY'S DEATH. Yeah… they actually burn a shroud for Percy. :p
#7: ANTAEUS. That Cyclops. I know Tyson will beat him to death if they meet. Thanks Percy is a witty man.
#8: BETRAYAL. Im just sad with Nico. He'd been trusting wrong person… do I need to say ghost?
#9: THE WAR. The war between Luke's / Kronos army against the Camp Half-Blood is action packed, though killings cant be avoided. It's a great scene though.
And that's it…. It's a very late review coz I've already finished The Last Olympian as of now and currently reading Red Queen… That's why im more focused on writing review for the last book of the series. 4.5/5 stars for this great second-to-the-last-book-of-the-series! 🙂